Titanium Pipe Manufacturer, Titanium Welded Pipe Supplier, ASTM B337 Titanium Seamless Pipes Stockist, Titanium Round Pipes Exporter, UNS R50400 Pipes Dealer, Titanium Grade 2 Square Pipes, Werkstoff Nr. 3.7035 Hexagonal Pipes, DIN 3.7165 Rectangular Pipes, Titanium ERW Pipes, Titanium EFW Pipes Dealer in Mumbai, India.
ASME SB337 Titanium Pipes Distributor, Titanium Pipes Best Price, Titanium Hollow Pipes, Titanium Alloy 200 Pipes Supplier, Titanium Alloy Custom Pipes, UNS R56400 Electropolish Pipes, High Quality Gr 5 Alloy Pipes, Buy Titanium Alloy Pipes, Titanium Industrial Pipes, Titanium Hydraulic Pipes, Titanium Gr 7 Oval Pipes, ASTM B338 Titanium Alloy Pipes, ASME SB338 Titanium Grade 7 Pipes Manufacturer in India.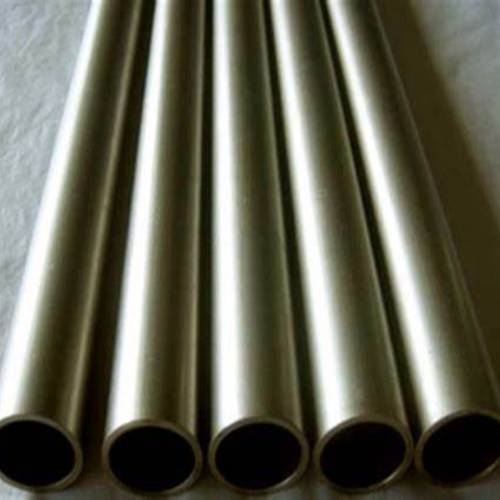 Gautam Tubes is India's top manufacturer, supplier & exporter of Titanium Pipes. Titanium Pipes contain several elements including molybdenum, silicon, and vanadium. Titanium Seamless Pipes are the most extensively used type of titanium, with moderate strength, good corrosion resistance, and formability. Out titanium alloy welded Pipes are commonly utilised in applications requiring high corrosion resistance in a variety of hostile environments. Titanium pipes have a higher corrosion resistance than aluminium pipes and a wider operating range. Titanium Grade 2 to 7 Pipes have outstanding corrosion resistance, great formability, and strength. Titanium Pipes are utilised in high-strength applications that need materials with greater strength.
These Titanium Pipes are available in various sizes, thicknesses, types, forms, lengths, ends, diameter, dimensions, standards and other specifications as per our clients requirements. To meet our clients' immediate demands, we have a big stock of Titanium alloy pipes on hand. Our Titanium Pipes are made in compliance with ASTM, ASME, DIN, BS, EN, IS, AMS, JIS, IBR, and other national and international standards, utilising high-quality raw materials and sophisticated technology. Our trained engineers conduct several tests at each stage of manufacturing to ensure that our products are of the highest quality. Titanium pipes of superior quality are utilised in a wide range of industries and applications such as aerospace, chemical industry, marine industry, etc.Gautam Tubes ships Titanium Pipes at the best possible pricing, on schedule, with adequate packing, and safely to our loyal clients all over the world.
Gautam Tubes is your one-stop source for Titanium Pipes. Contact us today with your requirements. Our sales team will get back to you with the best price for your requirement of Titanium Pipes.
EN 3.7165 Titanium Pipes Supplier, Competitive Price For Titanium Pipe, Largest Stockist of LSAW Titanium Pipes in India, Ready Stock of Titanium Alloy Pipes, Titanium R56400 Round Pipes, Large Diameter Grade 5 Titanium Pipe, Titanium Thick Wall Pipe Trader, Grade 7 Titanium Fabricated Pipe, Titanium Thin Wall Pipe Wholesaler, Titanium Polished Pipes Supplier in Mumbai, India.
Export Destinations for Titanium Pipes
Titanium Pipes in North America
United States, Mexico, Canada, Guatemala, Cuba, Haiti, Dominican Republic, Honduras, Nicaragua, El Salvador, Costa Rica, Panama, Jamaica, Trinidad and Tobago, Belize, Bahamas, Barbados, Saint Lucia, Grenada, Saint Vincent and the Grenadines, Antigua and Barbuda
Titanium Pipes in South America
Brazil, Colombia, Argentina, Peru, Venezuela, Chile, Ecuador, Bolivia, Paraguay, Uruguay, Guyana, Suriname, French Guiana
Titanium Pipes in South Europe
Russia, Germany, United Kingdom, France, Italy, Spain, Ukraine, Poland, Romania, Netherlands, Belgium, Czech Republic (Czechia), Greece, Portugal, Sweden, Hungary, Belarus, Austria, Serbia, Switzerland, Bulgaria, Denmark, Finland, Slovakia, Norway, Ireland, Croatia, Moldova, Bosnia and Herzegovina, Albania, Lithuania, North Macedonia, Slovenia, Latvia, Estonia, Montenegro, Luxembourg, Malta
Titanium Pipes in South Asia
India, Indonesia, Pakistan, Bangladesh, Japan, Philippines, Vietnam, Turkey, Iran, Thailand, Myanmar, South Korea, Iraq, Afghanistan, Saudi Arabia, Uzbekistan, Malaysia, Yemen, Nepal, Sri Lanka, Kazakhstan, Syria, Cambodia, Jordan, Azerbaijan, United Arab Emirates, Tajikistan, Israel, Laos, Lebanon, Kyrgyzstan, Turkmenistan, Singapore, Oman, State of Palestine, Kuwait, Georgia, Mongolia, Armenia, Qatar, Bahrain, Timor-Leste, Cyprus, Bhutan, Maldives, Brunei
Titanium Pipes in South Australia
Australia, Papua New Guinea, New Zealand, Fiji, Solomon Islands, Micronesia, Vanuatu, Samoa, Kiribati, Tonga, Marshall Islands, Palau, Tuvalu, Nauru