Duplex Steel Pipe Manufacturer, UNS S31803 Welded Pipe Supplier, ASTM A790 Duplex Steel Seamless Pipes Stockist, Duplex Steel Round Pipes Exporter, DIN 1.4462 Pipes Dealer, UNS S32205 Square Pipes, Duplex Steel Hexagonal Pipes, Duplex Stainless Steel Rectangular Pipes, SAF 2205 ERW Pipes, Duplex Steel EFW Pipes Dealer in Mumbai, India
ASME SA790 Duplex 2205 Pipes Distributor, Duplex Steel Pipes Best Price, Duplex Steel Hollow Pipes, Werkstoff Nr. 1.4462 Pipes Supplier, Duplex Steel Custom Pipes, Duplex Steel Electropolish Pipes, UNS S32205 High Quality Pipes, Buy UNS S31803 Duplex Pipes, Duplex Steel Industrial Pipes, ASME SA790 Duplex Steel Pipes Manufacturer in India.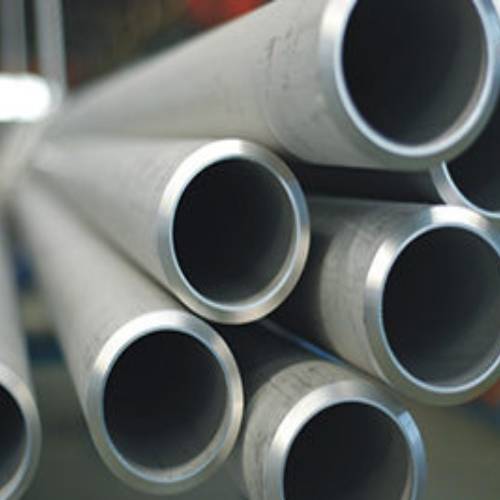 Gautam Tubes is an acclaimed manufacturer & exporter of Duplex Steel Pipes. These Duplex Steel Pipes are available in a variety of sizes, thicknesses, types, forms, lengths, ends, diameter, dimensions, standards and other specifications to meet the specific requirements of our esteemed customers. Duplex Steel Pipes is a ferritic, austenitic stainless steel alloy. Duplex Steel S31803 Seamless Pipes contains 22 percent chromium, 3 percent molybdenum, and 5 percent to 6 percent nickel. In comparison to other stainless steel grades, Duplex Steel Pipes offers higher resistance to stress corrosion cracking, pitting, and crevice corrosion, as well as high strength.
These Duplex Steel Pipes are manufactured by Gautam Tubes using top quality raw materials. Our Duplex Steel Pipes are manufactured according to national and international standards like ASTM, ASME, DIN, BS, EN, IS, AMS, JIS, IBR etc. to maintain the quality level of these Duplex Steel Pipes. Our highly skilled team performs various tests using the most latest technology to ensure quality is not compromised at any stage of manufacturing Duplex Steel Pipes. Duplex Steel Pipes are employed in a number of applications due to their superior corrosion resistance and high strength. Gautam Tubes supply Duplex Steel Pipes at best prices and in a timely manner with proper packaging to our customers all over the world.
Gautam Tubes is your one-stop source for Duplex Steel Pipes. Contact us today with your requirements. Our sales team will get back to you with the best price for your requirement of Duplex Steel Pipes.
ASTM A790 Duplex Steel Pipes Supplier, Competitive Price For Duplex Steel Pipe, Largest Stockist of Duplex Steel Pipes in India, Ready Stock of Duplex Steel Pipes, AISI Duplex Steel Round Pipes, Large Diameter Duplex Steel Pipe, Duplex Steel Thick Wall Pipe Trader, Grade Duplex 2205 Custom Pipe, Stainless Steel Duplex Steel Pipes Wholesaler, Duplex Steel 2205 Pipes Supplier in Mumbai, India.
Export Destinations for Duplex Steel Pipes
Duplex Steel Pipes in North America
United States, Mexico, Canada, Guatemala, Cuba, Haiti, Dominican Republic, Honduras, Nicaragua, El Salvador, Costa Rica, Panama, Jamaica, Trinidad and Tobago, Belize, Bahamas, Barbados, Saint Lucia, Grenada, Saint Vincent and the Grenadines, Antigua and Barbuda
Duplex Steel Pipes in South America
Brazil, Colombia, Argentina, Peru, Venezuela, Chile, Ecuador, Bolivia, Paraguay, Uruguay, Guyana, Suriname, French Guiana
Duplex Steel Pipes in South Europe
Russia, Germany, United Kingdom, France, Italy, Spain, Ukraine, Poland, Romania, Netherlands, Belgium, Czech Republic (Czechia), Greece, Portugal, Sweden, Hungary, Belarus, Austria, Serbia, Switzerland, Bulgaria, Denmark, Finland, Slovakia, Norway, Ireland, Croatia, Moldova, Bosnia and Herzegovina, Albania, Lithuania, North Macedonia, Slovenia, Latvia, Estonia, Montenegro, Luxembourg, Malta
Duplex Steel Pipes in South Asia
India, Indonesia, Pakistan, Bangladesh, Japan, Philippines, Vietnam, Turkey, Iran, Thailand, Myanmar, South Korea, Iraq, Afghanistan, Saudi Arabia, Uzbekistan, Malaysia, Yemen, Nepal, Sri Lanka, Kazakhstan, Syria, Cambodia, Jordan, Azerbaijan, United Arab Emirates, Tajikistan, Israel, Laos, Lebanon, Kyrgyzstan, Turkmenistan, Singapore, Oman, State of Palestine, Kuwait, Georgia, Mongolia, Armenia, Qatar, Bahrain, Timor-Leste, Cyprus, Bhutan, Maldives, Brunei
Duplex Steel Pipes in South Australia
Australia, Papua New Guinea, New Zealand, Fiji, Solomon Islands, Micronesia, Vanuatu, Samoa, Kiribati, Tonga, Marshall Islands, Palau, Tuvalu, Nauru