Alloy Steel Pipes stockist, Alloy Steel ASTM A335 P1 Seamless Pipes, Alloy Steel Welded P5 Pipes, Alloy Steel P9 Polished Pipes Dealer, Alloy Steel P11 Pipes at lowest price, Alloy Steel P91 Round Piping Price, Best Quality Alloy Steel P9 ERW Pipes stockist.
Alloy Steel Round P22 Pipe Supplier, Alloy Steel P5 Square Pipes Supplier, Alloy Steel P91 Seamless Pipes, Alloy Steel Round P1 Pipes Stockist, Alloy Steel P11 Rectangular Pipes, Alloy Steel P5 EFW Pipes supplier in India.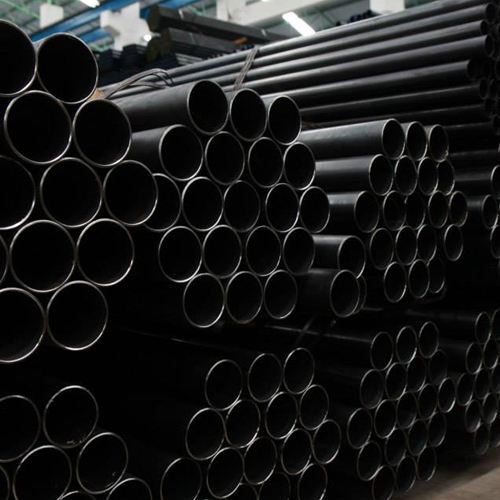 Pearls Metals is leading supplier of Alloy Steel Pipes in the Indian Market, with customers from a diverse range of industries. Our Alloy Steels Seamless Pipes are extensively used in applications which require smooth flow and seamless finfish. Alloy Steel Welded Pipes can withstand higher pressure and have good tensile strength. Chemical content of Alloy Steel Pipes includes carbon, manganese, silicon, sulfur, phosphorus, chromium and molybdenum all in measure and accurate quantity. Molybdenum in Alloy Steel Prevents our Pipes from oxidation. Chromium along with other present in Alloy Steel ERW Pipes prevents wear and Crevice Corrosion, Alloy Steel Welded pipes have welded joints in its cross sections which helps in moderate pressure situations. Alloy Steel Round Pipes used in chemical and steam processing are resistant to crevice corrosion and pittings.
Gautam Tubes Stock Alloy Steel Pipes of various sizes, lengths, forms standards, schedule and grades like P1, P5, P9, P11, P22, P91, etc. to fulfill the requirements of our customers in high demanding market conditions. Gautam Tubes Supplies Alloy Steel Pipes to various industries some of which are Petrochemicals, Paper and Pulp Industry, Power Generation, Chemical Equipment, Gas Processing, Boiler Manufacturing, Oil Drilling Companies, Power Plant, Automobile industries, etc. Alloy Steel Pipes supplied to these industries are tested and inspected before delivery to ensure they are defect free and quality is up to the mark. Some of the tests conducted by our skilled employees are hydrostatic tests, eddy current test, chemical and mechanical test, E381 macro etch testing, etc.
Gautam Tubes is your one-stop source for Alloy Steel Pipes. Contact us today with your requirements. Our sales team will get back to you with the best price for your requirement of Alloy Steel Seamless Pipes.

Alloy Steel Electropolished P11 Pipes, Dealer, A335 Alloy Steel P91 Square Pipes supplier in India, Alloy steel P9 Thick Wall Pipes Distributor, Alloy Steel P1 SAW Pipes, Alloy Steel LSAW Pipes, Alloy Steel P12 Fabricated Pipes Dealer in Mumbai, India.
Export Destinations for Alloy Steel Pipes
Alloy Steel Pipes in North America
United States, Mexico, Canada, Guatemala, Cuba, Haiti, Dominican Republic, Honduras, Nicaragua, El Salvador, Costa Rica, Panama, Jamaica, Trinidad and Tobago, Belize, Bahamas, Barbados, Saint Lucia, Grenada, Saint Vincent and the Grenadines, Antigua and Barbuda
Alloy Steel Pipes in South America
Brazil, Colombia, Argentina, Peru, Venezuela, Chile, Ecuador, Bolivia, Paraguay, Uruguay, Guyana, Suriname, French Guiana
Alloy Steel Pipes in South Europe
Russia, Germany, United Kingdom, France, Italy, Spain, Ukraine, Poland, Romania, Netherlands, Belgium, Czech Republic (Czechia), Greece, Portugal, Sweden, Hungary, Belarus, Austria, Serbia, Switzerland, Bulgaria, Denmark, Finland, Slovakia, Norway, Ireland, Croatia, Moldova, Bosnia and Herzegovina, Albania, Lithuania, North Macedonia, Slovenia, Latvia, Estonia, Montenegro, Luxembourg, Malta
Alloy Steel Pipes in South Asia
India, Indonesia, Pakistan, Bangladesh, Japan, Philippines, Vietnam, Turkey, Iran, Thailand, Myanmar, South Korea, Iraq, Afghanistan, Saudi Arabia, Uzbekistan, Malaysia, Yemen, Nepal, Sri Lanka, Kazakhstan, Syria, Cambodia, Jordan, Azerbaijan, United Arab Emirates, Tajikistan, Israel, Laos, Lebanon, Kyrgyzstan, Turkmenistan, Singapore, Oman, State of Palestine, Kuwait, Georgia, Mongolia, Armenia, Qatar, Bahrain, Timor-Leste, Cyprus, Bhutan, Maldives, Brunei
Alloy Steel Pipes in South Australia
Australia, Papua New Guinea, New Zealand, Fiji, Solomon Islands, Micronesia, Vanuatu, Samoa, Kiribati, Tonga, Marshall Islands, Palau, Tuvalu, Nauru