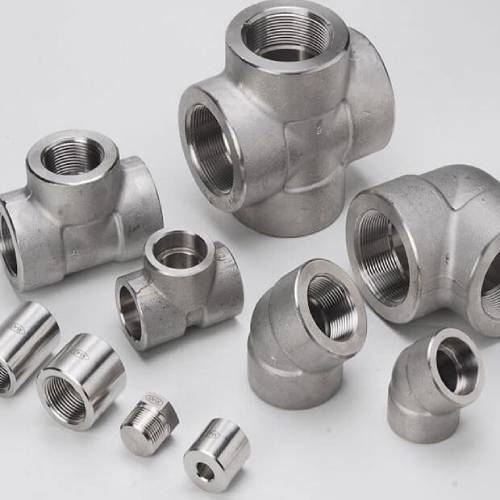 Gautam Tubes, World's largest stockist and supplier, offers Socket Weld Fittings. Socket Weld Fittings are available in various sizes, types, class, standards and other specifications to meet the demands of our customers. We offer Stainless steel smo 254 Socket Weld Fittings, duplex steel socket weld fittings, super duplex steel socket weld fittings, inconel socket weld fittings, incoloy socket weld fittings, monel socket weld fittings, hastelloy socket weld fittings, alloy 20 socket weld fittings, nickel socket weld fittings, titanium socket weld fittings at best prices. Our Socket Weld Fittings are made from premium quality raw materials and meet ASTM, ASME, DIN, BS, EN, IS, AMS, JIS, and IBR standards. Before providing these Socket Weld Fittings to our clients, our highly skilled staff performs several destructive and non-destructive testing to verify that they are in good working order.
We have a large stock of Socket Weld Fittings in various materials and sizes to meet the urgent demands of our valued clients. Our high-quality Socket Weld Fittings are used in a wide range of applications and industries. Gautam Tubes provides Socket Weld Fittings to clients all globally in a wide range of materials and grades at competitive rates, on time, and with proper packaging.
Gautam Tubes is your one-stop source for Socket Weld Fittings. Contact us today with your requirements. Our sales team will get back to you with the best price for your requirement of Socket Weld Fittings.
Export Destinations for Socket Weld Fittings
Socket Weld Fittings in North America
United States, Mexico, Canada, Guatemala, Cuba, Haiti, Dominican Republic, Honduras, Nicaragua, El Salvador, Costa Rica, Panama, Jamaica, Trinidad and Tobago, Belize, Bahamas, Barbados, Saint Lucia, Grenada, Saint Vincent and the Grenadines, Antigua and Barbuda
Socket Weld Fittings in South America
Brazil, Colombia, Argentina, Peru, Venezuela, Chile, Ecuador, Bolivia, Paraguay, Uruguay, Guyana, Suriname, French Guiana
Socket Weld Fittings in South Europe
Russia, Germany, United Kingdom, France, Italy, Spain, Ukraine, Poland, Romania, Netherlands, Belgium, Czech Republic (Czechia), Greece, Portugal, Sweden, Hungary, Belarus, Austria, Serbia, Switzerland, Bulgaria, Denmark, Finland, Slovakia, Norway, Ireland, Croatia, Moldova, Bosnia and Herzegovina, Albania, Lithuania, North Macedonia, Slovenia, Latvia, Estonia, Montenegro, Luxembourg, Malta
Socket Weld Fittings in South Asia
India, Indonesia, Pakistan, Bangladesh, Japan, Philippines, Vietnam, Turkey, Iran, Thailand, Myanmar, South Korea, Iraq, Afghanistan, Saudi Arabia, Uzbekistan, Malaysia, Yemen, Nepal, Sri Lanka, Kazakhstan, Syria, Cambodia, Jordan, Azerbaijan, United Arab Emirates, Tajikistan, Israel, Laos, Lebanon, Kyrgyzstan, Turkmenistan, Singapore, Oman, State of Palestine, Kuwait, Georgia, Mongolia, Armenia, Qatar, Bahrain, Timor-Leste, Cyprus, Bhutan, Maldives, Brunei
Socket Weld Fittings in South Australia
Australia, Papua New Guinea, New Zealand, Fiji, Solomon Islands, Micronesia, Vanuatu, Samoa, Kiribati, Tonga, Marshall Islands, Palau, Tuvalu, Nauru