Monel Pipe Manufacturer, Monel 400 Welded Pipe Supplier, ASTM B165 Monel Seamless Pipes Stockist, Monel K500 Round Pipes Exporter, Monel 400 Pipes Dealer, Monel K500 Square Pipes, Monel 400 Hexagonal Pipes, Monel K500 Rectangular Pipes, Monel 400 ERW Pipes, Monel EFW Pipes Dealer in Mumbai, India
ASME SB165 Monel Pipes Distributor, Monel 400 Pipes Best Price, Monel K500 Hollow Pipes, Monel Pipes Supplier, Monel 400 Custom Pipes, Monel Electropolish Pipes, High Quality Monel Pipes, Buy Monel K500 Pipes, Monel Industrial Pipes, ASME SB725 Monel K500 Pipes Manufacturer in India.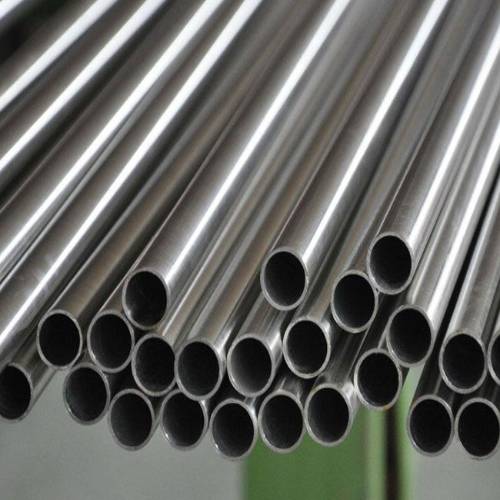 Gautam Tubes is a reliable & famous manufacturer & exporter of Monel Pipes. Monel is a ductile copper and nickel-based alloy with superior corrosion resistance across a wide variety of applications. Monel Pipes are particularly useful in aquatic environments and non-oxidizing chloride solutions. These pipes are often utilised in a wide variety of atmospheres, from moderately oxidising to moderately reducing. Our Monel 400 Seamless Pipes require relatively little maintenance and have a superior workability. As a result, Monel Pipes are employed in a variety of industrial applications. These Monel Pipes are available in various sizes, thicknesses, types, forms, lengths, ends, diameter, dimensions, standards and other specifications as per our clients requirements. Monel alloy is also resistant to pitting, stress corrosion, and crevice corrosion.
Gautam Tubes have ready stock of Monel pipes for any urgent needs by our esteemed clients. Our Monel Pipes are manufactured using the best quality raw materials. To maintain the quality level of these Monel Pipes, they are manufactured in accordance with national and international standards such as ASTM, ASME, DIN, BS, EN, IS, AMS, JIS, IBR, and others. Our qualified engineers conduct several tests at every stage of manufacturing to produce premium quality products. Monel Pipes are used in a wide range of applications & industries due to their diverse operating properties. Gautam Tubes supply Monel Pipes at reasonable prices and in a timely manner with proper packaging to our customers worldwide.

Gautam Tubes is your one-stop source for Monel Pipes. Contact us today with your requirements. Our sales team will get back to you with the best price for your requirement of Monel Pipes.
ASTM B165 Monel Pipes Supplier, Competitive Price For Monel Pipe, Largest Stockist of Monel 400 Pipes in India, Ready Stock of UNS N04400 Pipes, ANSI UNS N05500 Round Pipes, Large Diameter Monel 400 Pipe, Monel Thick Wall Pipe Trader, Grade Monel 400 Custom Pipe, DIN 2.4375 Pipes Wholesaler, Werkstoff Nr. 2.4360 Pipes Supplier in Mumbai, India.
Export Destinations for Monel Pipes
Monel Pipes in North America
United States, Mexico, Canada, Guatemala, Cuba, Haiti, Dominican Republic, Honduras, Nicaragua, El Salvador, Costa Rica, Panama, Jamaica, Trinidad and Tobago, Belize, Bahamas, Barbados, Saint Lucia, Grenada, Saint Vincent and the Grenadines, Antigua and Barbuda
Monel Pipes in South America
Brazil, Colombia, Argentina, Peru, Venezuela, Chile, Ecuador, Bolivia, Paraguay, Uruguay, Guyana, Suriname, French Guiana
Monel Pipes in South Europe
Russia, Germany, United Kingdom, France, Italy, Spain, Ukraine, Poland, Romania, Netherlands, Belgium, Czech Republic (Czechia), Greece, Portugal, Sweden, Hungary, Belarus, Austria, Serbia, Switzerland, Bulgaria, Denmark, Finland, Slovakia, Norway, Ireland, Croatia, Moldova, Bosnia and Herzegovina, Albania, Lithuania, North Macedonia, Slovenia, Latvia, Estonia, Montenegro, Luxembourg, Malta
Monel Pipes in South Asia
India, Indonesia, Pakistan, Bangladesh, Japan, Philippines, Vietnam, Turkey, Iran, Thailand, Myanmar, South Korea, Iraq, Afghanistan, Saudi Arabia, Uzbekistan, Malaysia, Yemen, Nepal, Sri Lanka, Kazakhstan, Syria, Cambodia, Jordan, Azerbaijan, United Arab Emirates, Tajikistan, Israel, Laos, Lebanon, Kyrgyzstan, Turkmenistan, Singapore, Oman, State of Palestine, Kuwait, Georgia, Mongolia, Armenia, Qatar, Bahrain, Timor-Leste, Cyprus, Bhutan, Maldives, Brunei
Monel Pipes in South Australia
Australia, Papua New Guinea, New Zealand, Fiji, Solomon Islands, Micronesia, Vanuatu, Samoa, Kiribati, Tonga, Marshall Islands, Palau, Tuvalu, Nauru