Titanium Round Bars Manufacturer, Titanium Rods Supplier, ASTM B348 Titanium Hex Bars Stockist, UNS R50400 Bars Exporter, Titanium Rods Dealer, 3.7035 Square Bars, Titanium Bright Bars, Titanium Grade 5 Flat Bars, Titanium Gr. 2 Hot Rolled Bars, Titanium Gr. 7 Forged Bars Dealer in Mumbai, India
ASME SB348 Titanium Rectangle Bars Distributor, UNS R56400 Round Bars Best Price, Titanium Black Bar, DIN 3.7165 Rod Supplier, Titanium Cold Rolled Bars, Titanium Alloy Rectangular Bars, High Quality Titanium Alloy Round Bars, Buy Titanium Threaded Bars, Ti. Alloy Precision Ground Bars, Titanium Alloy Grade 2 Round Bars, Titanium Alloy Gr. 7 Rod, Werkstoff Nr. 3.7035 Bars & Rods Manufacturer in India.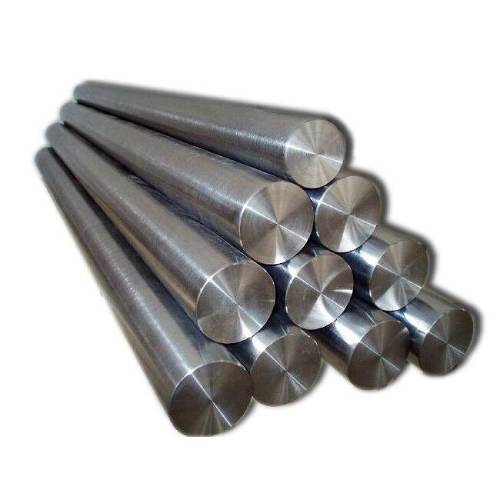 Gautam Tubes is an experienced and trusted manufacturer & exporter of high quality Titanium Round Bars in India. These Titanium Round Bars are commonly utilised in applications that require increased corrosion resistance in a variety of harsh environments. Titanium Bright Bars provide outstanding strength and formability. Titanium Bars have a minimum yield strength of 275 Mpa (40 ksi) and low amounts of impurity elements, putting it in the middle of the strength scale. Titanium Round Bars & Rods have excellent corrosion resistance and are easy to weld. Our Titanium Round Bars & Rods are available in various sizes, forms, types, lengths, finish, dimensions, standards and other specifications to meet the needs of our clients.
We have a big stock of Titanium Round Bars on reserve to meet our clients' urgent needs. Titanium Round Bars are manufactured using the highest quality raw materials and latest technology. ASTM, ASME, DIN, BS, EN, IS, AMS, JIS, IBR, and other national and international standards are used to design these bars and rods. At each stage of manufacturing, our skilled engineers conduct destructive and non-destructive testing to verify that our Titanium bars and rods are of the highest quality. Our Titanium bars and rods are used in applications where corrosion resistance is a must or where operating temperatures prevent the use of aluminium. Some of the applications and industries where titanium alloy bars & rods are used are petrochemicals, gas processing, oil & gas, marine industries, chemical industries, etc. Gautam Tubes sells Titanium Alloy Round Bars to customers all around the world at the most affordable prices, on schedule, and in pristine condition.
Gautam Tubes is your one-stop source for Titanium Alloy Round Bars & Rods. Contact us today with your requirements. Our sales team will get back to you with the best price for your requirement of Titanium Bars & Rods.
DIN 3.7165 Round Bars Supplier, Competitive Price For Titanium Bars & Rods, Largest Stockist of Titanium Round Bars in India, Ready Stock of Titanium Round Bars, Titanium Gr 5 Round Bars Trader, Titanium Alloy Hexagonal Bars, Ti. Alloy Gr. 5 Bars & Rods Wholesaler, ASTM B348 Titanium Alloy Hex Bars, Titanium Polished Round Bars Supplier in Mumbai, India.
Export Destinations for Titanium Round Bars
Titanium Round Bars in North America
United States, Mexico, Canada, Guatemala, Cuba, Haiti, Dominican Republic, Honduras, Nicaragua, El Salvador, Costa Rica, Panama, Jamaica, Trinidad and Tobago, Belize, Bahamas, Barbados, Saint Lucia, Grenada, Saint Vincent and the Grenadines, Antigua and Barbuda
Titanium Round Bars in South America
Brazil, Colombia, Argentina, Peru, Venezuela, Chile, Ecuador, Bolivia, Paraguay, Uruguay, Guyana, Suriname, French Guiana
Titanium Round Bars in South Europe
Russia, Germany, United Kingdom, France, Italy, Spain, Ukraine, Poland, Romania, Netherlands, Belgium, Czech Republic (Czechia), Greece, Portugal, Sweden, Hungary, Belarus, Austria, Serbia, Switzerland, Bulgaria, Denmark, Finland, Slovakia, Norway, Ireland, Croatia, Moldova, Bosnia and Herzegovina, Albania, Lithuania, North Macedonia, Slovenia, Latvia, Estonia, Montenegro, Luxembourg, Malta
Titanium Round Bars in South Asia
India, Indonesia, Pakistan, Bangladesh, Japan, Philippines, Vietnam, Turkey, Iran, Thailand, Myanmar, South Korea, Iraq, Afghanistan, Saudi Arabia, Uzbekistan, Malaysia, Yemen, Nepal, Sri Lanka, Kazakhstan, Syria, Cambodia, Jordan, Azerbaijan, United Arab Emirates, Tajikistan, Israel, Laos, Lebanon, Kyrgyzstan, Turkmenistan, Singapore, Oman, State of Palestine, Kuwait, Georgia, Mongolia, Armenia, Qatar, Bahrain, Timor-Leste, Cyprus, Bhutan, Maldives, Brunei
Titanium Round Bars in South Australia
Australia, Papua New Guinea, New Zealand, Fiji, Solomon Islands, Micronesia, Vanuatu, Samoa, Kiribati, Tonga, Marshall Islands, Palau, Tuvalu, Nauru