Nickel Round Bars Manufacturer, Nickel Rods Supplier, ASTM B160 Nickel Hex Bars Stockist, UNS N02200 Bars Exporter, Nickel Rods Dealer, 2.4066 Square Bars, Nickel Bright Bars, Nickel 200 Flat Bars, Nickel Hot Rolled Bars, Nickel 201 Forged Bars Dealer in Mumbai, India.
ASME SB160 Nickel Rectangle Bars Distributor, UNS N02201 Round Bars Best Price, Nickel Black Bar, DIN 2.4068 Rod Supplier, Nickel Cold Rolled Bars, Nickel Alloy Rectangular Bars, High Quality Nickel Alloy Round Bars, Buy Nickel Threaded Bars, Nickel Precision Ground Bars, Nickel Alloy 200 Round Bars, Nickel Alloy 201 Rod, Werkstoff Nr. 2.4660 Bars & Rods Manufacturer in India.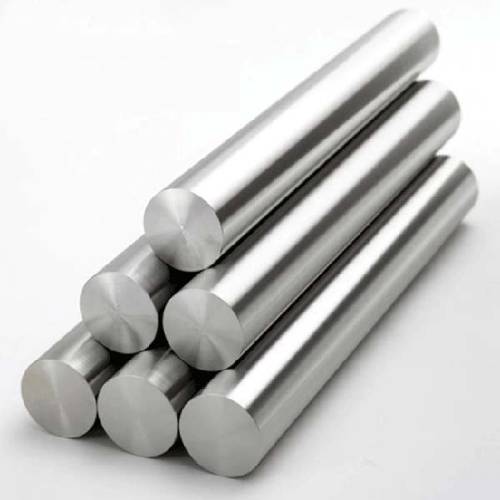 Gautam Tubes is a recognized and leading manufacturer & exporter of premium quality Nickel Round Bars in India. The nickel alloy is corrosion resistant and has good mechanical qualities. It also has extraordinary resistance to alkalis solutions, when other alloys struggle to even live, owing to the fact that temperature and concentration have a significant impact on the alloy. Resistance to reducing chemicals, high electrical conductivity, resistance to dry fluorine, alkaline salt solutions and neutral solutions, sulfuric acids, and in reducing environments including in caustic alkaline are some of the other properties of these Nickel bars & rods. Our Nickel Round Bars & Rods are available in various sizes, forms, types, lengths, finish, dimensions, standards and other specifications to meet the needs of our clients.
To satisfy our clients immediate demands, we have a large stock of Nickel Round Bars available. Nickel Round Bars are made using the best quality raw materials and latest advanced technologies. These bars and rods are designed according to ASTM, ASME, DIN, BS, EN, IS, AMS, JIS, IBR, and other national and international standards. To ensure that our Nickel bars and rods are of the highest quality, our expert engineers perform destructive and non-destructive tests at each stage of production. Power generation, petrochemicals, gas processing, pharmaceuticals, chemical equipment, saltwater equipment, heat exchangers, condensers, the paper and pulp industry, and many more industries and applications use our nickel bars and rods. Gautam Tubes provides Nickel Alloy Round Bars to clients all over the world at the most competitive pricing, on time and in absolutely perfect packaging.
Gautam Tubes is your one-stop source for Nickel Alloy Round Bars & Rods. Contact us today with your requirements. Our sales team will get back to you with the best price for your requirement of Nickel Bars & Rods.
DIN 2.4066 Round Bars Supplier, Competitive Price For Nickel Bars & Rods, Largest Stockist of Nickel Round Bars in India, Ready Stock of Nickel Round Bars, Ni 99.2 Nickel Round Bars Trader, JIS NCF 201 Nickel Hexagonal Bars, Nickel 200 Bars & Rods Wholesaler, ASTM B160 Nickel Alloy Hex Bars, Nickel Polished Round Bars Supplier in Mumbai, India.
Export Destinations for Nickel Round Bars
Nickel Round Bars in North America
United States, Mexico, Canada, Guatemala, Cuba, Haiti, Dominican Republic, Honduras, Nicaragua, El Salvador, Costa Rica, Panama, Jamaica, Trinidad and Tobago, Belize, Bahamas, Barbados, Saint Lucia, Grenada, Saint Vincent and the Grenadines, Antigua and Barbuda
Nickel Round Bars in South America
Brazil, Colombia, Argentina, Peru, Venezuela, Chile, Ecuador, Bolivia, Paraguay, Uruguay, Guyana, Suriname, French Guiana
Nickel Round Bars in South Europe
Russia, Germany, United Kingdom, France, Italy, Spain, Ukraine, Poland, Romania, Netherlands, Belgium, Czech Republic (Czechia), Greece, Portugal, Sweden, Hungary, Belarus, Austria, Serbia, Switzerland, Bulgaria, Denmark, Finland, Slovakia, Norway, Ireland, Croatia, Moldova, Bosnia and Herzegovina, Albania, Lithuania, North Macedonia, Slovenia, Latvia, Estonia, Montenegro, Luxembourg, Malta
Nickel Round Bars in South Asia
India, Indonesia, Pakistan, Bangladesh, Japan, Philippines, Vietnam, Turkey, Iran, Thailand, Myanmar, South Korea, Iraq, Afghanistan, Saudi Arabia, Uzbekistan, Malaysia, Yemen, Nepal, Sri Lanka, Kazakhstan, Syria, Cambodia, Jordan, Azerbaijan, United Arab Emirates, Tajikistan, Israel, Laos, Lebanon, Kyrgyzstan, Turkmenistan, Singapore, Oman, State of Palestine, Kuwait, Georgia, Mongolia, Armenia, Qatar, Bahrain, Timor-Leste, Cyprus, Bhutan, Maldives, Brunei
Nickel Round Bars in South Australia
Australia, Papua New Guinea, New Zealand, Fiji, Solomon Islands, Micronesia, Vanuatu, Samoa, Kiribati, Tonga, Marshall Islands, Palau, Tuvalu, Nauru