Monel Butt weld Fittings Manufacturer, Monel Buttweld Pipe Fittings Supplier, ASTM B366 Monel Seamless Pipe Fittings Stockist, Monel Welded Buttweld Fittings Exporter, Monel 400 Buttweld Fittings Dealer, Monel K500 Pipe Fittings, UNS N04400 Buttweld Fittings, Monel U Bend, UNS N05500 Buttweld Pipe Fittings, 2.4360 Monel Buttweld Fittings Manufacturer in Mumbai, India.
ASME SB366 Monel Pipe Elbow Distributor, Monel SR Elbow Best Price, Monel Equal Tee, Werkstoff Nr. 2.4375 Pipe Cap Supplier, Monel Eccentric Reducer, Monel Long Stub End, UNS N05500 Equal Cross, Buy Monel Concentric Reducer, EN 2.4360 45 Deg. LR Elbow, Monel 1D/5D/180D Bend Stockist, Monel 90 Degree Long Radius Elbow, Monel 45/180 Degree Short Radius Elbow Manufacturer in India.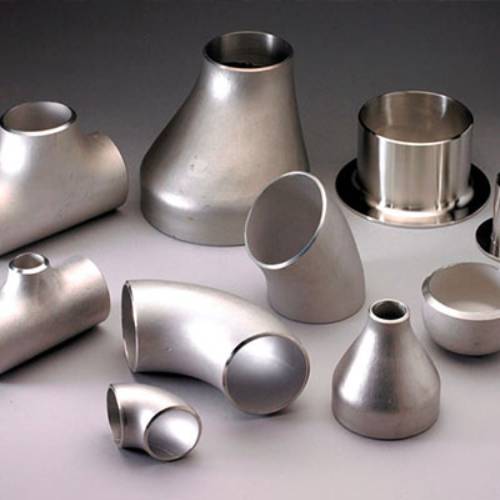 Gautam Tubes is India's most trusted manufacturer & exporter of Monel Buttweld Fittings. Because of the presence of nickel and copper, buttweld Fittings have amazing high strength and great corrosion resistance in an alkaline environment. Because of their remarkable longevity and strength, these buttweld fittings are the perfect choice for any deteriorating situations. These Monel Buttweld Fittings also have some other good advantages, such as high strength and durability, corrosion resistance, excellent mechanical properties, perfect designs and precise measurements, and so on. These Monel Buttweld Fittings are available in various sizes, thicknesses, types, standards and other specifications as per clients requirements.
These Monel Buttweld Fittings are made using the highest quality raw materials by Gautam Tubes. We manufacture these Monel Buttweld Pipe Fittings in accordance with national and international standards such as ASTM, ASME, DIN, BS, EN, IS, AMS, JIS, IBR, and so on. Our quality control team undertakes several destructive and non-destructive tests when manufacturing Monel Buttweld Fittings to ensure that quality is not compromised. To produce these Monel Butt weld Fittings, we have an extremely competent team working to the fullest potential while maintaining a high degree of quality. Chemicals, oil and gas, pharmaceuticals, petrochemicals, food processing, marine industry, paper and pulp industries, and other industries utilise our Monel Buttweld Fittings. Gautam Tubes supplies Monel Buttweld Fittings to customers all over the world. We provide Monel Alloy Buttweld Fittings at a reasonable price and with proper packaging and quick delivery.
Gautam Tubes is your one-stop source for Monel Butt weld Fittings. Contact us today with your requirements. Our sales team will get back to you with the best price for your requirement of Monel Buttweld Pipe Fittings.
Monel 90 Deg. Short Radius Elbow Supplier, Competitive Price For Monel Buttweld Fittings, Largest Stockist of Monel 400 Buttweld Pipe Fittings in India, Ready Stock of Monel K500 Buttweld Fittings, Monel 45/180 Deg LR Elbow, Monel Unequal Tee, Monel Reducing Cross Trader, Grade 400 Monel Short Stub End, Monel K500 Buttweld Fittings Wholesaler, Monel Stub End Supplier in Mumbai, India.
Export Destinations for Monel Buttweld Fittings
Monel Buttweld Fittings in North America
United States, Mexico, Canada, Guatemala, Cuba, Haiti, Dominican Republic, Honduras, Nicaragua, El Salvador, Costa Rica, Panama, Jamaica, Trinidad and Tobago, Belize, Bahamas, Barbados, Saint Lucia, Grenada, Saint Vincent and the Grenadines, Antigua and Barbuda
Monel Buttweld Fittings in South America
Brazil, Colombia, Argentina, Peru, Venezuela, Chile, Ecuador, Bolivia, Paraguay, Uruguay, Guyana, Suriname, French Guiana
Monel Buttweld Fittings in South Europe
Russia, Germany, United Kingdom, France, Italy, Spain, Ukraine, Poland, Romania, Netherlands, Belgium, Czech Republic (Czechia), Greece, Portugal, Sweden, Hungary, Belarus, Austria, Serbia, Switzerland, Bulgaria, Denmark, Finland, Slovakia, Norway, Ireland, Croatia, Moldova, Bosnia and Herzegovina, Albania, Lithuania, North Macedonia, Slovenia, Latvia, Estonia, Montenegro, Luxembourg, Malta
Monel Buttweld Fittings in South Asia
India, Indonesia, Pakistan, Bangladesh, Japan, Philippines, Vietnam, Turkey, Iran, Thailand, Myanmar, South Korea, Iraq, Afghanistan, Saudi Arabia, Uzbekistan, Malaysia, Yemen, Nepal, Sri Lanka, Kazakhstan, Syria, Cambodia, Jordan, Azerbaijan, United Arab Emirates, Tajikistan, Israel, Laos, Lebanon, Kyrgyzstan, Turkmenistan, Singapore, Oman, State of Palestine, Kuwait, Georgia, Mongolia, Armenia, Qatar, Bahrain, Timor-Leste, Cyprus, Bhutan, Maldives, Brunei
Monel Buttweld Fittings in South Australia
Australia, Papua New Guinea, New Zealand, Fiji, Solomon Islands, Micronesia, Vanuatu, Samoa, Kiribati, Tonga, Marshall Islands, Palau, Tuvalu, Nauru