Titanium Sheets Manufacturer, Titanium Alloy Plates Supplier, ASTM B265 Titanium Coils Stockist, Titanium Strips Exporter, Titanium Gr. 5 Sheets & Plates Dealer, Titanium Foils, Titanium Slit Coils, Titanium Grade 2 Sheets, Titanium Alloy Plates, 3.7035 Plates, Titanium Alloy Industrial Sheet, Titanium Gr 2 Slitting Coils, Titanium Grade 5 Sheets & Plates Manufacturer in Mumbai, India.
ASME SB265 Titanium HR Plates Distributor, Titanium CR Sheets Best Price, Titanium 2B Finish Sheets, Werkstoff Nr. 3.7165 Shim Sheets Supplier, Titanium Alloy Chequered Plates, Titanium Perforated Sheets, UNS R50400 Hot Rolled Sheets, Buy UNS R56400 Sheets & Plates, Titanium Alloy Cold Rolled Sheet, Titanium No.4 Finish Sheets Manufacturer in India.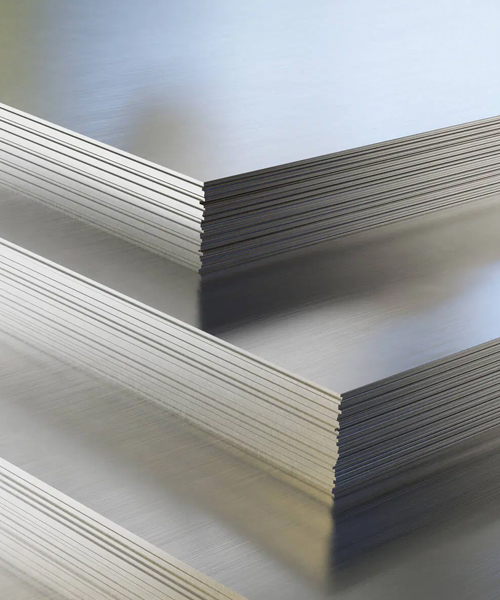 Gautam Tubes is a reputed and largest manufacturer & supplier of Titanium Sheets & Plates in India. Titanium Sheets have a lot of distinguishing characteristics such as dimensional stability, excellent finish, high material power, and so on. Titanium Plates also have several other great qualities, such as durability, low weight, and high tensile strength, to name a few. Titanium Slatting Coils are popular because they offer great formability, moderate strength, and excellent corrosion resistance. Titanium Plates are commercially pure titanium plates that require oxidation to prevent seizing during drawing. In oxidising, neutral, and weakly reducing environments, including chlorides, titanium sheets, plates & coils have a strong corrosion resistance. These Titanium Sheets & Plates are available in various sizes, width, length, thicknesses, finish, forms, dimensions, standards and other specifications as per customers needs.
Gautam Tubes manufactures these Titanium Sheets and Plates with high-quality raw materials and modern technologies. ASTM, ASME, DIN, BS, EN, IS, AMS, JIS, IBR, and other national and international standards are followed in the production of our Titanium Sheets and Plates. Our highly skilled team produces these Titanium Sheets & Plates to the highest standards possible while keeping a high level of quality. Our quality expert panel conducts various tests using the most up-to-date technologies to ensure that quality is not compromised at any stage of the Titanium Sheets & Plates production process. The petrochemical industry, chemical industry, oil and gas industry, pulp and paper industry, food processing industry, pharmaceutical industry, aerospace industry, and other sectors utilize our Titanium sheets & plates. Titanium Sheets and Plates are offered to our clients all around the world at competitive pricing, in proper packaging, and on time.
Gautam Tubes is your one-stop source for Titanium Alloy Sheets & Plates. Contact us today with your requirements. Our sales team will get back to you with the best price for your requirement of Titanium Sheets & Plates.
Titanium Hairline Sheets Supplier, Competitive Price For Titanium Grade 2 Sheets & Plates, Largest Stockist of Titanium Alloy Mirror Finish Sheets in India, Ready Stock of Titanium BA Finish Sheets, Titanium #8 Finish Sheets, Titanium Hot Rolled Plates, Titanium Brushed Sheets Trader, Grade Grade 2 Titanium 2D Finish Sheets, Titanium Alloy 8K Finish Sheets Wholesaler, Titanium Grade 5 Plain Sheets Supplier in Mumbai, India.
Export Destinations for Titanium Sheets & Plates
Titanium Sheets & Plates in North America
United States, Mexico, Canada, Guatemala, Cuba, Haiti, Dominican Republic, Honduras, Nicaragua, El Salvador, Costa Rica, Panama, Jamaica, Trinidad and Tobago, Belize, Bahamas, Barbados, Saint Lucia, Grenada, Saint Vincent and the Grenadines, Antigua and Barbuda
Titanium Sheets & Plates in South America
Brazil, Colombia, Argentina, Peru, Venezuela, Chile, Ecuador, Bolivia, Paraguay, Uruguay, Guyana, Suriname, French Guiana
Titanium Sheets & Plates in South Europe
Russia, Germany, United Kingdom, France, Italy, Spain, Ukraine, Poland, Romania, Netherlands, Belgium, Czech Republic (Czechia), Greece, Portugal, Sweden, Hungary, Belarus, Austria, Serbia, Switzerland, Bulgaria, Denmark, Finland, Slovakia, Norway, Ireland, Croatia, Moldova, Bosnia and Herzegovina, Albania, Lithuania, North Macedonia, Slovenia, Latvia, Estonia, Montenegro, Luxembourg, Malta
Titanium Sheets & Plates in South Asia
India, Indonesia, Pakistan, Bangladesh, Japan, Philippines, Vietnam, Turkey, Iran, Thailand, Myanmar, South Korea, Iraq, Afghanistan, Saudi Arabia, Uzbekistan, Malaysia, Yemen, Nepal, Sri Lanka, Kazakhstan, Syria, Cambodia, Jordan, Azerbaijan, United Arab Emirates, Tajikistan, Israel, Laos, Lebanon, Kyrgyzstan, Turkmenistan, Singapore, Oman, State of Palestine, Kuwait, Georgia, Mongolia, Armenia, Qatar, Bahrain, Timor-Leste, Cyprus, Bhutan, Maldives, Brunei
Titanium Sheets & Plates in South Australia
Australia, Papua New Guinea, New Zealand, Fiji, Solomon Islands, Micronesia, Vanuatu, Samoa, Kiribati, Tonga, Marshall Islands, Palau, Tuvalu, Nauru