Monel Sheets Manufacturer, Monel Plates Supplier, ASTM B127 Monel Coils Stockist, Monel Strips Exporter, Monel 400 Sheets & Plates Dealer, Monel Foils, Monel Slit Coils, Monel K500 Sheets, Monel NA 13 Plates, 2.4360 Plates, Monel Alloy Industrial Sheet, Monel K500 Slitting Coils, Monel 400 Sheets & Plates Manufacturer in Mumbai, India.
ASME SB127 Monel HR Plates Distributor, Monel CR Sheets Best Price, Monel 2B Finish Sheets, Werkstoff Nr. 2.4375 Shim Sheets Supplier, Monel Chequered Plates, Monel Perforated Sheets, UNS N05500 Hot Rolled Sheets, Buy UNS N04400 Sheets & Plates, Monel Cold Rolled Sheet, Monel No.4 Finish Sheets Manufacturer in India.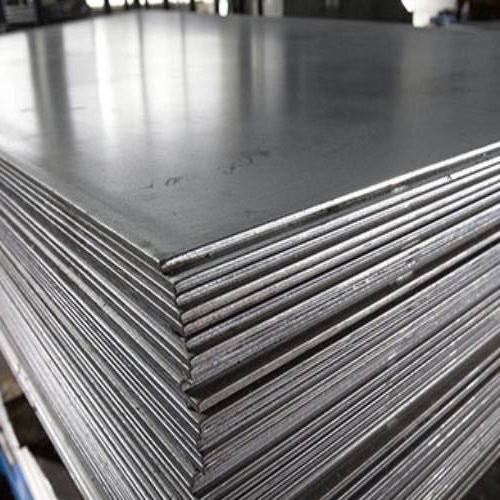 Gautam Tubes is a famous manufacturer & supplier of Monel Sheets & Plates in India. Our high-quality monel sheets & plates perform well in a variety of acidic and alkaline situations, and they're especially well-suited to reducing conditions. Better ductility, higher strength, longer service life, superior workability, surface finish, strong corrosion resistance, and so forth are all properties of our monel sheets & plates. These Monel Sheets & Plates are available in various sizes, width, length, thicknesses, finish, forms, dimensions, standards and other specifications as per customers needs. To provide the highest quality Monel Sheets to our customers, we employ modern techniques and innovative technologies.
Gautam Tubes manufactures these Monel Sheets and Plates with top quality raw materials and modern technologies. ASTM, ASME, DIN, BS, EN, IS, AMS, JIS, IBR, and other national and international standards are followed in the production of our Monel Sheets and Plates. We have a highly skilled workforce manufacturing these Monel Sheets & Plates to the best of their abilities while ensuring a high level of quality. Our quality expert panel runs several tests using the most latest equipment to ensure that quality is not compromised at any stage of the Monel Sheets & Plates production process. Monel Sheets and Plates are utilised in a wide range of applications and industries due to their excellent features. We provide Monel Sheets & Plates to our clients all over the world at competitive pricing, with proper packing and on-time delivery.
Gautam Tubes is your one-stop source for Monel Sheets & Plates. Contact us today with your requirements. Our sales team will get back to you with the best price for your requirement of Monel Sheets & Plates.
Monel Hairline Sheets Supplier, Competitive Price For Monel K500 Sheets & Plates, Largest Stockist of Monel Mirror Finish Sheets in India, Ready Stock of Monel BA Finish Sheets, Monel #8 Finish Sheets, Monel Hot Rolled Plates, Monel Brushed Sheets Trader, Grade K500 Monel 2D Finish Sheets, Monel 8K Finish Sheets Wholesaler, Monel 400 Plain Sheets Supplier in Mumbai, India.
Export Destinations for Monel Sheets & Plates
Monel Sheets & Plates in North America
United States, Mexico, Canada, Guatemala, Cuba, Haiti, Dominican Republic, Honduras, Nicaragua, El Salvador, Costa Rica, Panama, Jamaica, Trinidad and Tobago, Belize, Bahamas, Barbados, Saint Lucia, Grenada, Saint Vincent and the Grenadines, Antigua and Barbuda
Monel Sheets & Plates in South America
Brazil, Colombia, Argentina, Peru, Venezuela, Chile, Ecuador, Bolivia, Paraguay, Uruguay, Guyana, Suriname, French Guiana
Monel Sheets & Plates in South Europe
Russia, Germany, United Kingdom, France, Italy, Spain, Ukraine, Poland, Romania, Netherlands, Belgium, Czech Republic (Czechia), Greece, Portugal, Sweden, Hungary, Belarus, Austria, Serbia, Switzerland, Bulgaria, Denmark, Finland, Slovakia, Norway, Ireland, Croatia, Moldova, Bosnia and Herzegovina, Albania, Lithuania, North Macedonia, Slovenia, Latvia, Estonia, Montenegro, Luxembourg, Malta
Monel Sheets & Plates in South Asia
India, Indonesia, Pakistan, Bangladesh, Japan, Philippines, Vietnam, Turkey, Iran, Thailand, Myanmar, South Korea, Iraq, Afghanistan, Saudi Arabia, Uzbekistan, Malaysia, Yemen, Nepal, Sri Lanka, Kazakhstan, Syria, Cambodia, Jordan, Azerbaijan, United Arab Emirates, Tajikistan, Israel, Laos, Lebanon, Kyrgyzstan, Turkmenistan, Singapore, Oman, State of Palestine, Kuwait, Georgia, Mongolia, Armenia, Qatar, Bahrain, Timor-Leste, Cyprus, Bhutan, Maldives, Brunei
Monel Sheets & Plates in South Australia
Australia, Papua New Guinea, New Zealand, Fiji, Solomon Islands, Micronesia, Vanuatu, Samoa, Kiribati, Tonga, Marshall Islands, Palau, Tuvalu, Nauru