Nickel Flanges Manufacturer, UNS N02200 Slip on Flanges Supplier, ASTM B564 Nickel AlloyFlanges Stockist, ANSI B16.5 Nickel Flanges Exporter, DIN 2.4066 Flanges Dealer, Nickel 200 Plate Flanges, Nickel Flanges, Nickel Alloy Weld Neck Flanges, Nickel Orifice Flanges, Nickel Long Weld Neck Flanges, Nickel 201 Lap Joint Flanges Manufacturer in Mumbai, India.
ASME SB564 Nickel Blind Flanges Distributor, Nickel Alloy Socket Weld Flanges Best Price, Nickel WNRF Flanges, Werkstoff Nr. 2.4068 Spectacle Blind Flanges Supplier, Nickel Alloy RTJ Flanges, Nickel Threaded Flanges, Nickel 201 SORF Flanges, Nickel Alloy SWRF Flanges Manufacturer in India.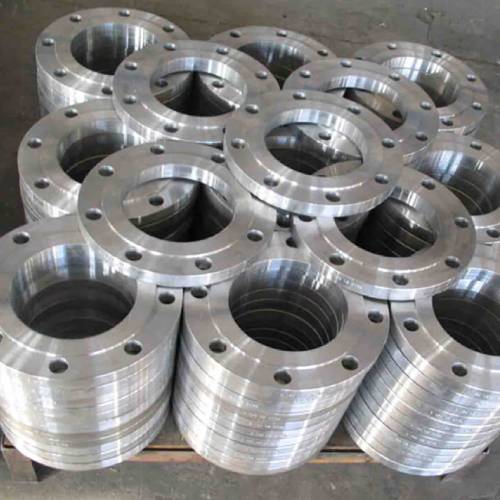 Gautam Tubes is India's trusted & leading manufacturer & supplier of Nickel Alloy Flanges. These flanges are made from the finest metals available to provide maximum durability, strength, and other benefits. Nickel, chromium, copper, and molybdenum are examples of metals.  It has good yield strength, tensile strength, and corrosion resistance because of the presence of these metals. The components and structures of these Nickel Alloy Flanges are generally corrosion-resistant. These Nickel Flanges are available in various sizes, class/pressure, types, dimensions, standards and other specifications as per customer's requirements. Our Nickel Alloy Pipe Flanges are used in a wide range of industries & applications such as oil & gas industry, petrochemical industry, chemical industry, etc.
Because of our vast inventory, we can provide Nickel flanges right away. These are available in a number of sizes and may be made to request. Nickel flanges are manufactured using the highest quality raw materials and modern technologies. These flanges are manufactured in accordance with ASTM, ASME, DIN, BS, EN, IS, AMS, JIS, IBR, and other national and international standards. Our highly skilled team uses the most up-to-date equipment to conduct several destructive and non-destructive tests to ensure that quality is maintained throughout the manufacturing of Nickel Flanges. Nickel Flanges are sent to our clients all over the world at best prices, in decent packaging, and in a timely manner.
Gautam Tubes is your one-stop source for Nickel Pipe Flanges. Contact us today with your requirements. Our sales team will get back to you with the best price for your requirement of Nickel Flanges.
Competitive Price For Nickel Flanges, Largest Stockist of UNS N02201 BLRF Flanges in India, Ready Stock of Nickel Flanges, Nickel Groove & Tongue Flanges, Nickel Flanges Wholesaler, Nickel Weld Neck Pipe Flanges, ANSI B16.5 Nickel Alloy SORTJ Flanges Supplier in Mumbai, India.
Export Destinations for Nickel Flanges
Nickel Flanges in North America
United States, Mexico, Canada, Guatemala, Cuba, Haiti, Dominican Republic, Honduras, Nicaragua, El Salvador, Costa Rica, Panama, Jamaica, Trinidad and Tobago, Belize, Bahamas, Barbados, Saint Lucia, Grenada, Saint Vincent and the Grenadines, Antigua and Barbuda
Nickel Flanges in South America
Brazil, Colombia, Argentina, Peru, Venezuela, Chile, Ecuador, Bolivia, Paraguay, Uruguay, Guyana, Suriname, French Guiana
Nickel Flanges in South Europe
Russia, Germany, United Kingdom, France, Italy, Spain, Ukraine, Poland, Romania, Netherlands, Belgium, Czech Republic (Czechia), Greece, Portugal, Sweden, Hungary, Belarus, Austria, Serbia, Switzerland, Bulgaria, Denmark, Finland, Slovakia, Norway, Ireland, Croatia, Moldova, Bosnia and Herzegovina, Albania, Lithuania, North Macedonia, Slovenia, Latvia, Estonia, Montenegro, Luxembourg, Malta
Nickel Flanges in South Asia
India, Indonesia, Pakistan, Bangladesh, Japan, Philippines, Vietnam, Turkey, Iran, Thailand, Myanmar, South Korea, Iraq, Afghanistan, Saudi Arabia, Uzbekistan, Malaysia, Yemen, Nepal, Sri Lanka, Kazakhstan, Syria, Cambodia, Jordan, Azerbaijan, United Arab Emirates, Tajikistan, Israel, Laos, Lebanon, Kyrgyzstan, Turkmenistan, Singapore, Oman, State of Palestine, Kuwait, Georgia, Mongolia, Armenia, Qatar, Bahrain, Timor-Leste, Cyprus, Bhutan, Maldives, Brunei
Nickel Flanges in South Australia
Australia, Papua New Guinea, New Zealand, Fiji, Solomon Islands, Micronesia, Vanuatu, Samoa, Kiribati, Tonga, Marshall Islands, Palau, Tuvalu, Nauru