Duplex Steel Flanges Manufacturer, UNS S32205 Slip on Flanges Supplier, ASTM A182 Duplex Steel Flanges Stockist, ANSI B16.5 Duplex Steel Flanges Exporter, DIN 1.4462 Flanges Dealer, Duplex Steel F51 Plate Flanges, Duplex 2205 Flanges, Duplex Steel Weld Neck Flanges, Duplex Steel Orifice Flanges, Duplex F60 Long Weld Neck Flanges, Duplex Steel Lap Joint Flanges Manufacturer in Mumbai, India.
ASME SA182 Duplex Steel Blind Flanges Distributor, Duplex Steel Socket Weld Flanges Best Price, Duplex Steel WNRF Flanges, Werkstoff Nr. 1.4462 Spectacle Blind Flanges Supplier, Duplex Steel RTJ Flanges, Duplex Steel Threaded Flanges, Duplex Steel SORF Flanges, Duplex Steel SWRF Flanges Manufacturer in India.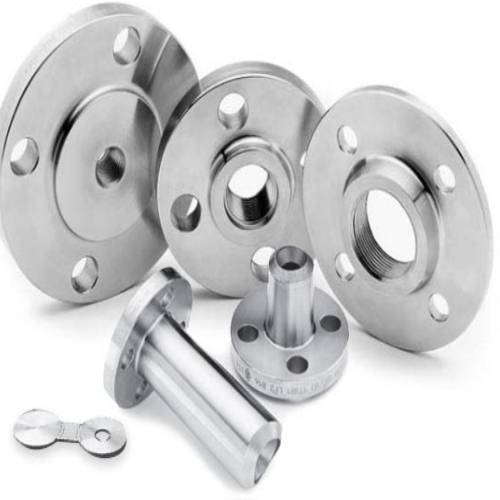 Gautam Tubes is a recognized & trusted  manufacturer & supplier of Duplex Steel Flanges in India. In most conditions, Duplex Steel outperforms other alloys in terms of corrosion resistance. It also has a high level of resistance to stress cracking caused by chlorine. The austenitic portion of the structure gives the Duplex Steel Weld Neck Flanges their increased strength, while the ferritin portion of the microstructure gives them their toughness. Because chromium is present in the chemical composition of these duplex steel flanges, they have a high surface toughness.  It performs admirably in high-temperature environments.These Duplex Steel Flanges are available in various sizes, class/pressure, types, dimensions, standards and other specifications as per customer's needs.
Because we hold a big stock of duplex steel flanges, we can quickly deliver Duplex Steel flanges. These can also be made to order in different sizes. Duplex Steel Flanges are manufactured with the highest quality raw materials and modern machinery. These flanges are manufactured to ASTM, ASME, DIN, BS, EN, IS, AMS, JIS, IBR, and other national and international standards. Our quality assurance team uses the latest equipment to conduct numerous destructive and non-destructive tests to ensure that quality is maintained throughout the manufacturing of Duplex Steel Flanges. Duplex Steel flanges can be used in a wide range of industries and applications due to their high performance and versatility. We offer Duplex Steel Flanges to our customers all over the world at affordable prices, with excellent packing and prompt delivery
Gautam Tubes is your one-stop source for Duplex Steel Pipe Flanges. Contact us today with your requirements. Our sales team will get back to you with the best price for your requirement of Duplex Steel Flanges.
Competitive Price For Duplex Steel Flanges, Largest Stockist of Duplex Steel BLRF Flanges in India, Ready Stock of Duplex Steel Flanges, Duplex Steel Groove & Tongue Flanges, Ferritic Stainless Steel Flanges Wholesaler, Duplex Steel Weld Neck Pipe Flanges, ANSI B16.5 Duplex Steel SORTJ Flanges Supplier in Mumbai, India.
Export Destinations for Duplex Steel Flanges
Duplex Steel Flanges in North America
United States, Mexico, Canada, Guatemala, Cuba, Haiti, Dominican Republic, Honduras, Nicaragua, El Salvador, Costa Rica, Panama, Jamaica, Trinidad and Tobago, Belize, Bahamas, Barbados, Saint Lucia, Grenada, Saint Vincent and the Grenadines, Antigua and Barbuda
Duplex Steel Flanges in South America
Brazil, Colombia, Argentina, Peru, Venezuela, Chile, Ecuador, Bolivia, Paraguay, Uruguay, Guyana, Suriname, French Guiana
Duplex Steel Flanges in South Europe
Russia, Germany, United Kingdom, France, Italy, Spain, Ukraine, Poland, Romania, Netherlands, Belgium, Czech Republic (Czechia), Greece, Portugal, Sweden, Hungary, Belarus, Austria, Serbia, Switzerland, Bulgaria, Denmark, Finland, Slovakia, Norway, Ireland, Croatia, Moldova, Bosnia and Herzegovina, Albania, Lithuania, North Macedonia, Slovenia, Latvia, Estonia, Montenegro, Luxembourg, Malta
Duplex Steel Flanges in South Asia
India, Indonesia, Pakistan, Bangladesh, Japan, Philippines, Vietnam, Turkey, Iran, Thailand, Myanmar, South Korea, Iraq, Afghanistan, Saudi Arabia, Uzbekistan, Malaysia, Yemen, Nepal, Sri Lanka, Kazakhstan, Syria, Cambodia, Jordan, Azerbaijan, United Arab Emirates, Tajikistan, Israel, Laos, Lebanon, Kyrgyzstan, Turkmenistan, Singapore, Oman, State of Palestine, Kuwait, Georgia, Mongolia, Armenia, Qatar, Bahrain, Timor-Leste, Cyprus, Bhutan, Maldives, Brunei
Duplex Steel Flanges in South Australia
Australia, Papua New Guinea, New Zealand, Fiji, Solomon Islands, Micronesia, Vanuatu, Samoa, Kiribati, Tonga, Marshall Islands, Palau, Tuvalu, Nauru