Titanium Circles Manufacturer, UNS R50400 Circle Supplier, ASTM B265 Titanium HR Circle Stockist, Titanium Grade 2 Circle Exporter, DIN 3.7035 Circle Dealer, Titanium Grade 5 CR Circle, UNS R56400 Circle, Titanium Alloy Polished Circle, Titanium Proof Machined Circles Manufacturer in Mumbai, India.
ASME SB265 Titanium Hot Rolled Circle Distributor, Titanium Grade 5 Cold Rolled Circles Best Price, Titanium Mirror Finish Circle, Werkstoff Nr. 3.7165 Circle Plate Supplier, Titanium Color Coated Circle, Titanium Small Flat Circle, Titanium Gr. 2 CNC Finish Circle, Export Quality Titanium Alloy Circles Manufacturer in India.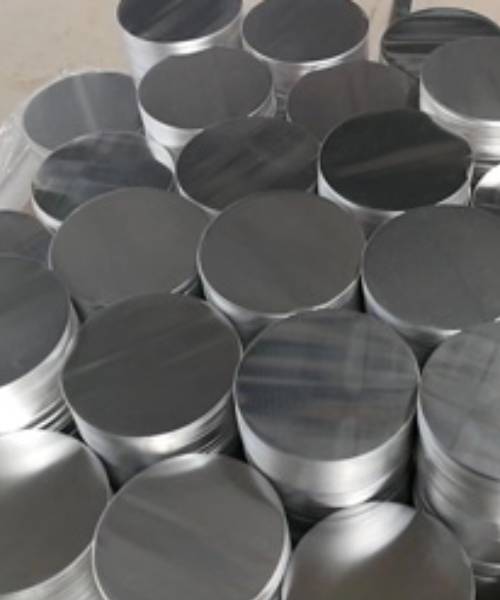 Gautam Tubes is a leading manufacturer & supplier of premium quality Titanium Circles in India. These Titanium Alloy Circles have outstanding resistance to a wide range of chemical process environments, including cupric and ferric chlorides, chlorine soiled (both inorganic and organic), hot soiled mineral acids, diluents, acetic and formic acids, chlorine dioxide, and hypochlorite solutions. Our Ti Gr 2 Circle offers exceptional resistance to corroding conditions and stress-corrosion cracking. This Titanium Grade 5 Circle is heat-treated in extremely hot settings, such as 2050 degrees Fahrenheit, before being immediately quenched. These Titanium Circles are available in various thicknesses, diameter, surface finish, dimensions, standards and other specifications as per customer's requirements.
We have a huge stock of Titanium Circles on hand in case our customers have an emergency. Our Titanium Circles are made using the best quality raw materials and cutting-edge technologies. These Titanium Circles are manufactured in accordance with ASTM, ASME, DIN, BS, EN, IS, AMS, JIS, IBR, and other national and international standards. To assure that quality is maintained throughout the Titanium Circle production process, our quality control team runs many tests utilising the most latest equipments.Titanium Grade 5 Circle exhibits excellent erosion resistance in a wide range of corrosive conditions, including sulphur compounds and chloride ions and are used in a variety of industrial applications including sinks, kitchen, heat exchangers, appliances, pressure vessels, petrochemical, chemical, paper, sugar, and others. Titanium Circle is offered to our clients all around the world at a competitive price, in suitable packaging, and on schedule.
Gautam Tubes is your one-stop source for Titanium Circles. Contact us today with your requirements. Our sales team will get back to you with the best price for your requirement of Titanium Alloy Circles.
Titanium Alloy Gr.5 Circle Price, Competitive Price For Titanium Circle, Largest Stockist of Titanium Alloy Mirror Finish Circle in India, Ready Stock of Titanium Gr. 2 Circles, Color Coated Titanium Circle, Titanium Grade 2 Polished Circles Wholesaler, ASME SB265 EN 3.7035 Circles Supplier in Mumbai, India.
Export Destinations for Titanium Circle
Titanium Circle in North America
United States, Mexico, Canada, Guatemala, Cuba, Haiti, Dominican Republic, Honduras, Nicaragua, El Salvador, Costa Rica, Panama, Jamaica, Trinidad and Tobago, Belize, Bahamas, Barbados, Saint Lucia, Grenada, Saint Vincent and the Grenadines, Antigua and Barbuda
Titanium Circle in South America
Brazil, Colombia, Argentina, Peru, Venezuela, Chile, Ecuador, Bolivia, Paraguay, Uruguay, Guyana, Suriname, French Guiana
Titanium Circle in South Europe
Russia, Germany, United Kingdom, France, Italy, Spain, Ukraine, Poland, Romania, Netherlands, Belgium, Czech Republic (Czechia), Greece, Portugal, Sweden, Hungary, Belarus, Austria, Serbia, Switzerland, Bulgaria, Denmark, Finland, Slovakia, Norway, Ireland, Croatia, Moldova, Bosnia and Herzegovina, Albania, Lithuania, North Macedonia, Slovenia, Latvia, Estonia, Montenegro, Luxembourg, Malta
Titanium Circle in South Asia
India, Indonesia, Pakistan, Bangladesh, Japan, Philippines, Vietnam, Turkey, Iran, Thailand, Myanmar, South Korea, Iraq, Afghanistan, Saudi Arabia, Uzbekistan, Malaysia, Yemen, Nepal, Sri Lanka, Kazakhstan, Syria, Cambodia, Jordan, Azerbaijan, United Arab Emirates, Tajikistan, Israel, Laos, Lebanon, Kyrgyzstan, Turkmenistan, Singapore, Oman, State of Palestine, Kuwait, Georgia, Mongolia, Armenia, Qatar, Bahrain, Timor-Leste, Cyprus, Bhutan, Maldives, Brunei
Titanium Circle in South Australia
Australia, Papua New Guinea, New Zealand, Fiji, Solomon Islands, Micronesia, Vanuatu, Samoa, Kiribati, Tonga, Marshall Islands, Palau, Tuvalu, Nauru