Super Duplex Steel Tube Manufacturer, UNS S32760 Welded Tube Supplier, ASTM A213 Super Duplex Steel Seamless Tubing Stockist, Super Duplex Steel Round Tubes Exporter, DIN 1.4410 Tubes Dealer, UNS S32750 Square Tubes, Super Duplex Steel Hexagonal Tubes, Super Duplex Stainless Steel Rectangular Tubes, SAF 2507 ERW Tubes, Super Duplex Steel EFW Tubes Dealer in Mumbai, India.
ASME SA213 Super Duplex 2507 Heat Exchanger Tubes Distributor, Super Duplex Steel Tubes Best Price, Super Duplex Steel U Shaped Tubes, Werkstoff Nr. 1.4410 Tubes Supplier, Super Duplex Steel Custom Tubes, Super Duplex Steel Electropolish Tubes, UNS S32750 High Quality Tubes, Buy UNS S32760 Super Duplex Tubes, Super Duplex Steel Industrial Tubes, ASTM A269 Super Duplex Steel Tubes Manufacturer in India.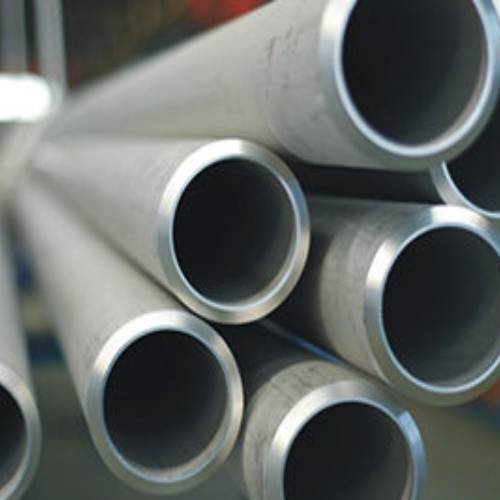 Gautam Tubes is a trusted & famous manufacturer & supplier of Super Duplex Steel Tubes. These Super Duplex Steel Tubes are available in various sizes, thicknesses, types, forms, lengths, ends, diameters, dimensions, standards and other specifications to meet the specific needs of our valued customers. The Super duplex has a higher Molybdenum and Chromium concentration, as well as the inclusion of nickel, which improves corrosion resistance. Super Duplex stainless steel has a microstructure that is a mix of austenite and ferrite and is stronger than ferritic and austenitic grades. In comparison to ordinary steel grades, it has an excellent resistance to pitting, a high tensile strength, and a high resistance to stress corrosion cracking at mild temperatures. These super duplex steel tubes are extremely easy to maintain and have excellent machinability and workability with high corrosion resistance.
We manufacture these Super Duplex Steel Tubes by using the best quality raw materials and with advanced machinery. These super duplex tubes are manufactured according to national and international standards like ASTM, ASME, DIN, BS, EN, IS, AMS, JIS, IBR, etc. Our trained engineers conduct several tests at each stage of manufacturing to ensure that our super duplex tubes are of the highest quality. Due to their excellent corrosion resistance and high strength these are used in many applications & industries. As one of the largest stockists of super duplex steel tubes we offer these tubes at best prices to our customers. We deliver super duplex steel tubes on time with proper packaging & safely to our clients worldwide.

Gautam Tubes is your one-stop source for Super Duplex Steel Tubes. Contact us today with your requirements. Our sales team will get back to you with the best price for your requirement of Super Duplex Steel Tubes.

ASME SA269 Super Duplex Steel Coiled Tubes Supplier, Competitive Price For Super Duplex Steel Tube, Largest Stockist of Super Duplex Steel Tubes in India, Ready Stock of Super Duplex Steel Thin Wall Tubes, AISI Super Duplex Steel COld Drawn Tubes, Super Duplex Steel Hydraulic Tubes, Super Duplex Steel Instrumentation Tube Trader, Grade Super Duplex 2507 Custom Tube, Super Duplex Steel Capillary Tubes Wholesaler, Super Duplex Steel 2507 Tubes Supplier in Mumbai, India.
Export Destinations for Super Duplex Steel Tubes
Super Duplex Steel Tubes in North America
United States, Mexico, Canada, Guatemala, Cuba, Haiti, Dominican Republic, Honduras, Nicaragua, El Salvador, Costa Rica, Panama, Jamaica, Trinidad and Tobago, Belize, Bahamas, Barbados, Saint Lucia, Grenada, Saint Vincent and the Grenadines, Antigua and Barbuda
Super Duplex Steel Tubes in South America
Brazil, Colombia, Argentina, Peru, Venezuela, Chile, Ecuador, Bolivia, Paraguay, Uruguay, Guyana, Suriname, French Guiana
Super Duplex Steel Tubes in South Europe
Russia, Germany, United Kingdom, France, Italy, Spain, Ukraine, Poland, Romania, Netherlands, Belgium, Czech Republic (Czechia), Greece, Portugal, Sweden, Hungary, Belarus, Austria, Serbia, Switzerland, Bulgaria, Denmark, Finland, Slovakia, Norway, Ireland, Croatia, Moldova, Bosnia and Herzegovina, Albania, Lithuania, North Macedonia, Slovenia, Latvia, Estonia, Montenegro, Luxembourg, Malta
Super Duplex Steel Tubes in South Asia
India, Indonesia, Pakistan, Bangladesh, Japan, Philippines, Vietnam, Turkey, Iran, Thailand, Myanmar, South Korea, Iraq, Afghanistan, Saudi Arabia, Uzbekistan, Malaysia, Yemen, Nepal, Sri Lanka, Kazakhstan, Syria, Cambodia, Jordan, Azerbaijan, United Arab Emirates, Tajikistan, Israel, Laos, Lebanon, Kyrgyzstan, Turkmenistan, Singapore, Oman, State of Palestine, Kuwait, Georgia, Mongolia, Armenia, Qatar, Bahrain, Timor-Leste, Cyprus, Bhutan, Maldives, Brunei
Super Duplex Steel Tubes in South Australia
Australia, Papua New Guinea, New Zealand, Fiji, Solomon Islands, Micronesia, Vanuatu, Samoa, Kiribati, Tonga, Marshall Islands, Palau, Tuvalu, Nauru