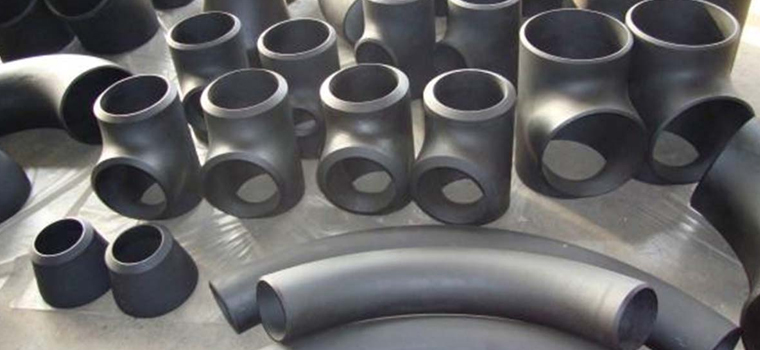 Alloy Steel Buttweld fittings Overview
Overview:
Alloy Steel Buttweld Fittings are widely used in many industries in piping networks and pipelines generally used to change the direction or route of the flow. Alloy Steel Buttwed fittings are widely used because of its mechanical properties and advantage that it brings with it. We have various grades of Alloy Steel Pipes available with us some of them are ASTM A234 P5, P9, P11, P12, P21, P22 and P91. All these grades have their own benefits, depending upon the needs it is used in different sectors. Buttweld fittings are applicable for places where the diameter of piping systems are above 2 inches. Buttweld fittings used in pipe systems provide it excellent support and strength. It prevents leak and is an economical option.
Properties:
Large proportion of Iron, Chromium, steel and nickel along with measured carbon enhances the strength of Alloy steel Buttweld fittings and provides its toughness.
Alloy Steel Buttweld fittings are capable of withstanding high pressure for a longer duration which makes it less distortion and prevents cracking.
Alloy Steel Buttweld fittings manufactured by us have measured proportion of materials mixed in it which prevent Less grain growth.
The high content of chromium in the alloy steel prevents oxidation. Chromium forms a passivated oxide layer on the surface of the Buttweld fittings, thereby proving to be an effective barrier to corrosion.
Our Alloy Steel Buttweld fittings can be applicable in application where good high temperature strength is required, due to its tolerance to high temperature.
Low carbon present in alloy steel makes it ductile and improves its machinability properties. It has a minimum tensile strength of 758 MPa which is higher than the tensile strength of other steel.
Types:
We manufacture various types of Alloy Steel Buttweld fittings available in a wide range of grades some of which are P5, P9, P11, P12, P21, P22 and P91.
Buttweld Tee - Buttweld Tee are categorized into equal tee and reducer tee. Equal tee 3 branches to it, all having equal diameter and reducer tee is used to install small pipes as the size of the 90-degree branch is smaller than the diameter of the straight-line pipe. Tee will provide a connection to install another device for the pipeline systems.
Cross - Cross is used when the pipes are to be linked with pipes in a 90 degree angle. It is categorized as Equal Cross and Reducer Cross, both connect 4 pipes but branches of reducer have smaller diameter, except one connecting to the main pipe.
Reducer - Buttweld reducer is used in the pipe system to reduce its size from large to small-bore as compared to inner diameter. Reducer has 2 types concentric and eccentric.
Pipe Elbow - Elbow is used in a piping network to the direction of the flow. It is a steel elbow formed by hot pressing or forging. It has long radius and short radius and comes in 45 degree, 90 degree and 180 degree.
Pipe Caps - Caps are mounted at the end of the network to stop the flow. It is used as a plug welded on an external thread to stop the flow.
Stub End - Lap joint stub end is a fitting that is used to replace welded flanges when the support of a rotating backup flange is required.
Applications:
Alloy Steel Buttweld fittings are widely used in industries like wastewater treatment, food processing, chemical industry, breweries, construction, petrochemical facilities, pharmaceutical, cryogenic plants, paper & pulp mill, gas processing, nuclear power plants, oil and gas industry and many more.