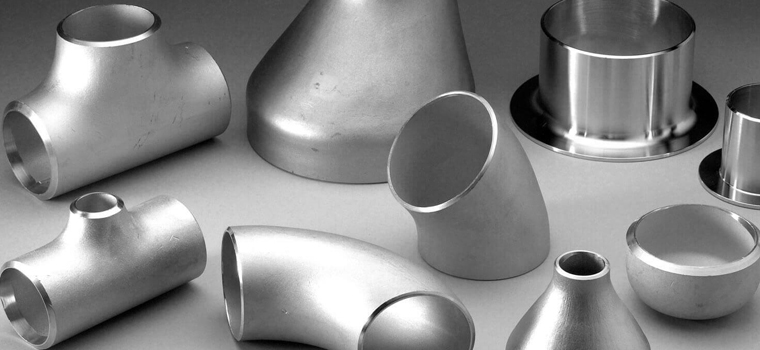 Buttweld Fittings Applications, Types and Advantages
Pipe fittings are of various types, one of the widely used fittings are Buttweld fittings. Buttweld fittings are used in pipe networks which helps in the flow of water, liquid or any gasses through it. These fittings are produced using cold and hot forming methods. These fittings come in a range of shapes and can also be customized which helps in making the connection more strong and robust. Buttweld fittings have their ends beveled, and the exact shape of the bevel is determined by the wall thickness of the pipe to which it is being attached. A buttweld fitting can be made of a variety of exotic materials, mostly material of the fitting is almost always the same as the pipe system to which it is welded.
Buttweld fittings are capable of withstanding high pressure, temperature and many extreme environmental conditions, depending upon the materials of the fittings. The smooth inner surface and perfect shape provides a seamless flow and less pressure. It is a cost effective solution compared to other fittings. Though a highly trained person is needed to weld them correctly.
Buttweld fittings have many types, few of them are Pipe Elbow, Pipe Bend, Equal cross, Concentric reducer, Shot/Long Stub end, End Cap, Lateral Tee, Equal Tee, Eccentric Reducer, etc. All these fittings are available in a variety of materials like Stainless Steels, Duplex Steel, Super Duplex Steel, Nickel Alloy, Monel Alloy, Hastelloy, Inconel/Incoloy, Titanium, Alloy 20, Carbon Steel, etc. Buttweld fittings are further available in all the grades of these materials and specifications. Some of the industries which rely on buttweld fittings are chemical processing, food industries, oil and gas industries, petroleum, petrochemical, food industries, power generation and many more.
Buttweld fittings of various types have different applications for example, Lateral/Equal Tee and cross are applicable where they require fittings to split the flow of connections in multiple directions. 90 Degree /45 Degree Elbow fittings are used to change the path of the flow. Caps are mostly used at the end to stop the flow Or at a place from where water should flow. Reducers are applied in connection where flow has to be increased or decreased in the connection. Stub End is to connect pipes together in a piping system along with a lap joint flange/backing flange, although stub end and lap joint have to be of the same materials.