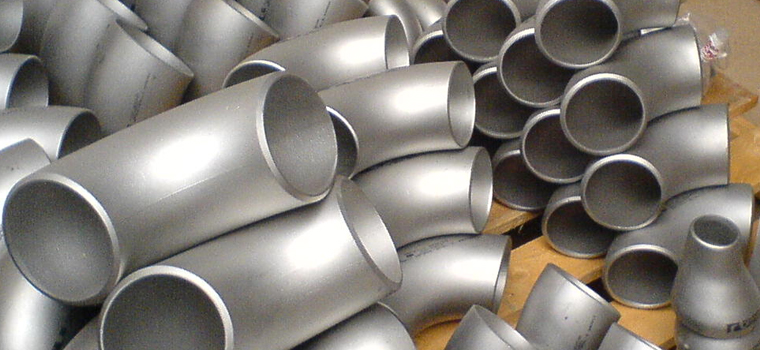 Inconel/Incoloy Buttweld Fittings Overview
The most resistant alloys to Carbon dioxide and H2S corrosion are those with a high nickel content of 25% to 65% Ni. For CO2 corrosion, no restrictions are specified, although nickel presence affects H2S corrosion. The most popular high composites in the oil business are the Inconel alloys UNS N08825 & UNS N06625. Typically, they cost more than stainless steel alloys. Both solid forgings and welded cladding on the inexpensive low-alloy steel substrates require high nickel alloys. Crevice corrosion can be lessened by covering the outermost layer with a high nickel alloy.
Resistance to Heat: With a melting temperature of 1430°C, Inconel exhibits strong high temperature tolerance. This material performs well in cryogenic environments, demonstrating its wide range of temperature resistance.
Natural Heat Resistance: When heated, this nickel superalloy has the innate ability to form a solid and stable oxide layer. The material is shielded from harm by this inherent passivation property.
Corrosion Protection: This Inconel version is significantly resistant to oxidation, which prevents corrosion, thanks to the protective oxide layer.
High mechanical toughness: The superalloy material has a minimum yield strength of 725 MPa and a minimum tensile strength of 1035 MPa at room temperature. These numbers rise to 1035 MPa and 1240 MPa, respectively, when Inconel is treated with solutions and precipitations.
Good machining quality and malleability: A slow cutting mechanism can be machined more easily with a hard cutting tool. After the material has been fully aged, roll thread of this alloy is feasible using induction heating at 700°C.
To buttweld is to use a butt-welding procedure to join the ends of pipes and fittings. Likewise referred to as welded pipe fittings. It features plain or bevelled ends, with typical sizes ranging from 3/4" to 24".
Welded pipe fittings are typically created in accordance with ASME Spec B16.9. Dimensions 1/2" to 48 of factory-made forged steel butt weld fittings are covered by ASME B16.9. However, low pressure corrosion-resistant buttwelding fittings are not covered by this standard made in Inconel 600, Inconel 601, Inconel 625, Inconel 690, Inconel 718, Incoloy 800, Incoloy 825, Incoloy 800h, Incoloy 800ht.
Different Types of Inconel/Incoloy Butt Weld Fittings:
Butt weld fittings come in a variety of forms, including elbows, tees, reducers, caps, and lap joint stub ends. We have them available in Inconel 600, Inconel 601, Inconel 625, Inconel 690, Inconel 718, Incoloy 800, Incoloy 825, Incoloy 800h, Incoloy 800ht.
Inconel/Incoloy Buttweld Elbow: The butt weld elbow's purpose is to reorient the flow of liquid through the piping system. It has varied degrees encompasses to 45 °, 90 °, and 180 ° and comes in two types: long radius and short radius. Steel elbows made by hot rolling or forging are known as buttweld elbows. The steel pipe and elbow are directly welded together as the connection method. In comparison to other connection styles, butt-welded elbows are typically utilised for elbows with higher pressure and temperature.
Inconel/Incoloy Butt Welded Tee: The butt weld tee (also known as an equal tee or reducing tee) features a straight pipe and a 90-degree branch that will serve as a connector for adding additional device to the pipeline systems. Petroleum, aerospace, chemical, metallurgical, electrical, military, engineering services, and other industrial pipes all use buttweld tee extensively.
Inconel/Incoloy T-shape buttweld reducer: The 90-degree branch has the same T-shape structure as the straight-line pipe, but it is smaller in diameter. install pipes or fittings of a smaller size. The diameter of the branch is less than that of the main diameter. Typically, NPS diameters are used to describe the reducing tee.
Inconel/Incoloy buttweld Equal Tee: Three branches of the tee share the same diameters, or an equal tee. Also known as Straight Tee.
Inconel/Incoloy Butt Weld Reducer: Pipelines employ buttweld reducers to change the size of their bores from large to smaller in line with the internal diameter. Here, the length of the reductions is equal to the average of the pipe diameters, both small and large. In this case, the reducer may be utilised as a nozzle or a diffuser. The reducer aids in accommodating the hydraulic flow or existing piping of various sizes. Concentric and eccentric reducers are the two different sorts.
Inconel/Incoloy Concentric Reducer: This reducer comprises of fittings with conical shapes that are symmetrical and increase or decrease in diameter uniformly about the centreline. For instance, either bottom or top of the pipe does not remain level when 1" pipe changes to 34" pipe. When there are one or more diameter variations, it is frequently utilised.
Inconel/Incoloy Eccentric Reducer: A fitting with a conical form that alters the diameter but is not symmetrical about just the centerline. This is utilized in pipework systems to increase or decrease a pipe's diameter from one size.
Inconel/Incoloy Butt Weld Cap: To conceal the pipe fittings, Butt Weld Pipes End Caps are typically soldered to the pipe ends or installed on the exterior threads of the pipe end. to plug the pipeline so that it serves the same purpose as a pipe plug.
Inconel/Incoloy Butt Weld Coupling: Couplings are mechanical devices that connects two shafts at their ends to convey power. Couplings are mostly used to connect 2 pieces of rotating machinery while allowing for some degree of end movement, misalignment, or both. A mechanical device which joins the ends of related pieces or objects is another example of a coupling. There are two main categories of couplings.
Inconel/Incoloy Full Coupling: Connecting two pipes together or joining a pipe to the nipple.
Inconel/Incoloy Half coupling: Inconel/Incoloy Half couplings are joints at one end that have the other end directly soldered to the main pipe.
Inconel/Incoloy Butt Weld Nipple: A nipple is a small section of pipe with threads often on both ends used to connect two other fittings. The total length with threads sections typically serves to define the nipple's length. Additionally, it might be fashioned out of a piece of pipe or have a hexagonal part in the middle that a wrench can grip.
Inconel/Incoloy Butt Weld Stub End: When the support of a spinning backup flange is required, the fitting known as a lap joint stub end is employed to replace welded flanges. Additionally, it is available in both conventional and non-standard ANSI dimensions, which are utilised to join pipes of various diameters.
Applications:
The flow of fluids can be changed, divided, or stopped using buttweld fittings in a variety of industries. Trash treatment centres, chemical industries, breweries, Petro - chemical facilities, freezing plants, paper manufacturing, gas processing, or even nuclear powerplants are some of these businesses. The variety of uses shows how durable buttweld fittings are and how frequently this specimen of fitting is used in Inconel 600, Inconel 601, Inconel 625, Inconel 690, Inconel 718, Incoloy 800, Incoloy 825, Incoloy 800h, Incoloy 800ht.
To modify, segregate, or prevent the flow of fluids, buttweld fittings can be applied in a variety of sectors. These include facilities for the treatment of waste, the processing of oil, breweries, the chemical and petrochemical sector, cryogenic plants, the manufacture of paper and pulp, the processing of gas, or even nuclear power plants. The wide range of implementations demonstrates the buttweld fitting's robustness and how frequently this fitting will be used.
Advantages:
In extremely severe situations, buttweld fittings can endure pressures and temperatures. Regardless of the industry they are needed for, they are typically regarded as the most reliable welding fixtures. They do, however, require a lot of time to install and a very trained installer to weld them effectively on site.
A stronger, more reliable, and more leak-proof pipe connection is provided by a welded connection.
The design of the seamless metal framework gives the whole piping system additional strength.
The seamless flow created by the pipe's smooth interior and modest direction changes reduces pressure drops and internal turbulence.
They allow progressive direction to change with little turbulence and have a smooth inner surface.
They need a lot less room to build and hang the pipe system.
The most useful approach to trustworthy, leak-proof couplings.
They require almost no maintenance.
Their maximum temperature and pressure are higher.
They combine to create a whole system.
It is simple to insulate them.
They provide a system with uniform wall thickness.